Proven Products
Quality materials ensure a quality installation. With a wide product offering that includes single-ply, metal system solutions, we provide a variety of innovative products with outstanding warranty coverage.
---
EPDM Systems
Since its introduction in 1980, Firestone's RubberGardTM EPDM Roof System has dominated the single-ply roofing market through its proven performance, durability and flexibility over a wide range of building types.
The RubberGard EPDM system has delivered more than three decades of commercial roofing success by building upon a heritage of innovation in rubber polymer technology. The versatile membrane offers a variety of installation options including fully adhered, ballasted or mechanically attached that deliver superior long-term weatherability and exhibit exceptional wind uplift resistance.
Single-ply EPDM roofing systems are based on a high-performance synthetic rubber compound that provides outstanding weathering characteristics in climates worldwide. From office buildings and distribution warehouses to hospitals and schools, we have an EPDM roofing solution that's right for you.
TPO Systems
Thermoplastic polyolefin (TPO) single-ply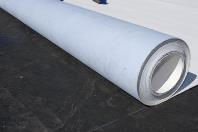 roofing membranes are among the fastest growing commercial roofing products in the industry, gaining broad industry acceptance for many performance and installation advantages. As demand increases for heat-reflective and energy-efficient roofing systems, thermoplastic polyolefin (TPO) single-ply roofing membranes provide exceptional resistance to ultraviolet (UV) radiation, ozone and chemical exposure. Plus, it provides enhanced puncture, tear and abrasion resistance, as well as unsurpassed warranty coverage.
Available in fully adhered and mechanically attached roofing systems.
Metal Systems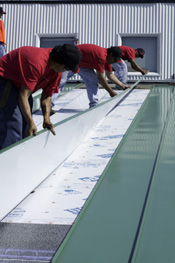 Firestones Metal Products offers a variety of sustainable, dependable and environmentally friendly metal roofing
system options. Offered by Firestone Building Products, one of the leading suppliers of architectural products to the construction industry, the metal products are available in a wide range of applied finishes, colors and materials. It
allows for maximum design freedom while the Firestone Red Shield Warranty coverage provides long-term peace of mind.
Design enhancement, energy efficiency and ease of use are just some of the features a metal roof provides to any building.
Double 'D' Roofing's metal shop offers custom fabrications and fabricated edge metals that are independently IBC
ES-1 tested to meet building codes.
Metal Wall Panels
Firestone offers a full array of metal wall panel systems tested and engineered to meet your project's needs. Choose from an extensive range of standard and custom color options; mix and match your cladding systems to create the signature project you desire. With Firestone's unmatched product line, you do not need to compromise your design creativity.
© 2019 Double 'D' Roofing and Sheet Metal Sign In v5.6.3.3